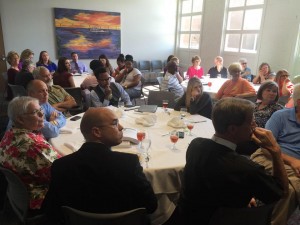 We had a great turnout for our luncheon at The Mill Conference Center on October 7, 2015! To see more photos, click here. We had dozens in attendance, including representation from The Salvation Army, Helping Hands, Church of Christ, and many others.
We had a wonderful turnout at the second Starkville Charity Collaborative Meeting on Thursday, April 9, 2015! All original agencies are joined, with several new potentials in attendance. To see more images from the meeting click here. Contact bridgesoutofpoverty@gmail.com to learn about joining the Collaborative.
The next Starkville Charity Collaborative (Charity Tracker) Meeting will be tomorrow, April 9th, at 1:15 PM at Cadence Bank on the 3rd floor Conference Room. RSVP to Kelly Olivieri at 662-312-2025 or at bridgesoutofpoverty@gmail.com. We hope to see you there!
We've made the Starkville Daily News! Written by James Carskadon, Bridges is in full spotlight as we launch "Charity Tracker" for the immediate Starkville area.
For the full article in the Starkville Daily News, visit here.